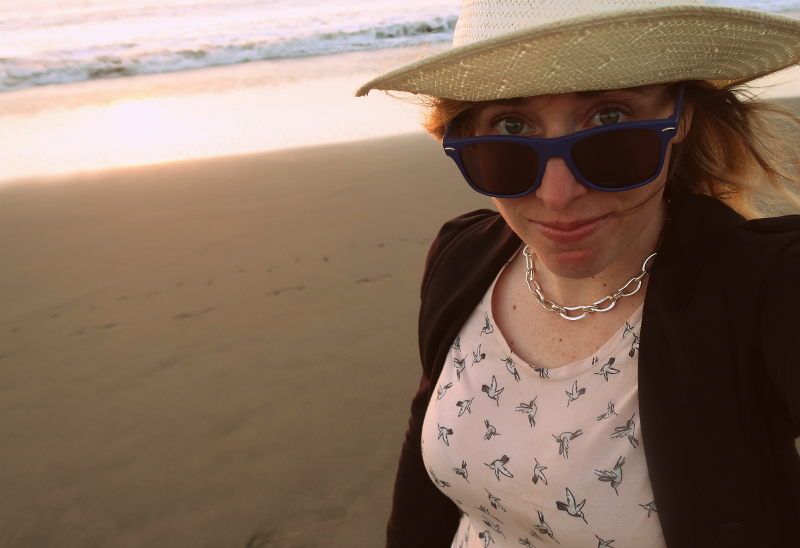 I'm currently on a bus back from Sacramento to San Francisco and am going back to work tomorrow. I'm in that gap between vacation and real life starting up again, so I thought I'd take this time to look back on 2016 before officially entering 2017 reality tomorrow.

If 2015 was a whirlwind of change with everything from my job to my location to traveling new places to my relationship status (2015 recap here!), 2016 was the year of just saying yes to new adventures and experiencing collective global heartbreak over all the tragedies that happened.
I'm going to do a rapid fire recap, recounting what comes to mind first about each month.
January
Ate very healthy for the first three weeks of the year, felt amazing. Slept better, had more energy. Then I went to Lei Out, a beach frisbee tournament in Santa Monica, and decided to treat myself with a In-N-Out Burger chocolate milkshake. I wouldn't end up getting on that healthy of a streak again for the rest of the year. I ate whatever I wanted that long weekend, followed by eating whatever I wanted for almost the entirety of the rest of 2016…
But Lei Out weekend was incredible. Two days of beach frisbee with some of the best people and then an extra day doing touristy stuff in Los Angeles with the same friend who I hiked the Tour du Mont Blanc with in 2015.
February
I traveled with my family to Germany to have a family reunion with my great-aunt and cousins! I also convinced the family to take a four hour road trip over to the Czech Republic so we could visit Prague for the first time, a beautiful city I'd always wanted to see.
March
My first trip to Vegas as an adult! We played a frisbee tournament during the day, ate at an all-you-can-eat sushi buffet, and danced the nights away until around 4 and 5 am. 
April
I learned to ski! My friend was the best teacher and had me graduating from bunny slope to green to an easy blue by the end of the day.
I also went to my first bachelorette weekend!
May
I spent Mother's Day with my Mom for the first time in eight years, which led to me doing my first ever challenge video on YouTube: a Daughter vs Daughter competition.
June
Perhaps the best week of the year. I went to my college reunion, then road tripped to Kansas City where my friend got married the next weekend.
And I tried daily vlogging for the first time! I did Vlune and ended up doing 17 out of 30 days.
July
One of the best birthdays I've had in a long time. I hate birthdays; I generally find that they're a time of disappointment and forced reflection on the past, present, and future that usually ends with me being extreme self-critical of myself. Even the really great birthdays of my past had their downsides. (E.g. my 21st birthday which I co-celebrated with my friend who turned 21 the same week as me. We had dinner at the best pizza restaurant in town with a small group of friends and then drank the night away at a bar down the street with a larger group of friends. So fun! Until the end of the night when I barfed into a bag next to my bed and then woke up the next morning with the worst hangover of my life. I couldn't even move from bed until late afternoon that day.)
This year, though, was so simple and nice. I usually try to take my birthday off, but I discovered this year that that might be part of the problem. Having the day off gives me more time to think and overthink. Instead, I worked a full day and my co-worker friend is also my birthday twin, so we celebrated our birthdays together. The company gave us both balloons and our other co-worker friend brought us each chocolate croissants for breakfast. We usually eat sad desk lunches because we're so busy, but that day we decided screw it and went out and treated ourselves to a nice lunch. Then my family came to town and we ate a delicious seafood dinner right by the water near the Bay Bridge. Just a lovely day all around.
August
Not a standout month. Work was challenging and I felt a significant comedown from the adventure high that I'd been floating on for the first half of the year.
September
I escaped to Lake Tahoe and had an amazing weekend with my friend and her boyfriend. Life is just better when you get out into nature with quality human beings.
Speaking of being in nature with great people, I also had a magical day hiking to Alamere Falls.
October
I dressed up like a bee for Halloween.
November
Thanksgiving is my favorite holiday and I spent it at home with my family and our cats and dogs, one of my favorite places to be in the world.
(Also Hillary lost and a piece of me died inside.)
December
I daily vlogged again! I did Vlogmas for the first time and managed to do 16 out of 24 days while working full-time and being sick for at least a week of it. That's a 66% score — nearly a passing grade! I'm hoping to daily vlog again for at least one month in 2017 and then maybe we'll see if I can get up to 70+% completion rate.
I also didn't have an end-of-year freakout about resolutions and enter 2017 relaxed and ready from eleven days of vacation.