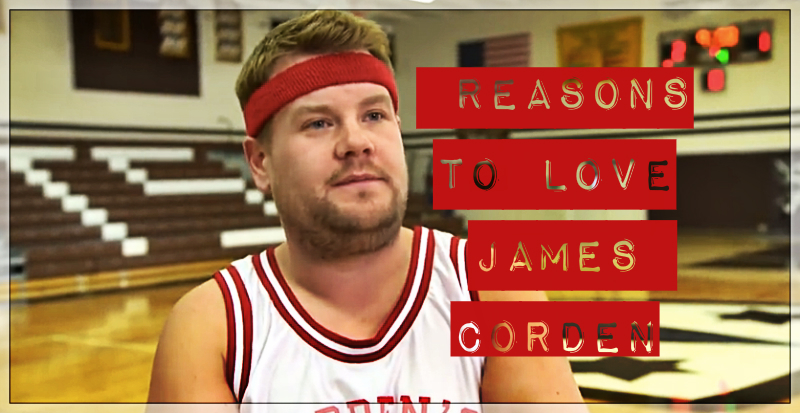 My first listicle! (This might be a moment.)
Recently, I've had a lot of conversations that have included me recommending a certain late night show to friends and family. James Corden is my new favorite celebrity from 2015, but a lot of people still don't know about him yet. When someone hasn't seen the genius of Carpool Karaoke, it becomes imperative that they experience it immediately. Nothing can cheer me up as quickly or effectively as the ol' CK and I feel the need to share its happiness!
If you don't know who I'm talking about, James Corden is a London bloke who came stateside to take over The Late Late Show from Craig Ferguson in December 2014. He had a whole comedic career over in England before, but I have no idea about that, so I'm going to stick what what I know. Here are 3 things from his time on the The Late Late Show that will make you love him as much as I do:
Carpool Karaoke – It all started with Mariah Carey back in March of '15. The premise is that these celebrities are coming along on James' drive to work and then they do a combination of an interview/chat and sing some of the artist's songs together. They're all good fun, but not all Carpool Karaoke segments are not created equal. Here are my absolute favorites that you should watch without question:

Justin Bieber Carpool Karaoke – This was the video that first helped convince me that he wasn't a complete asshole after his more turbulent times (i.e. back when hundreds of thousands of Americans signed a petition to try to get him deported back to Canada). The Justin I saw in this video helped remind me why I loved him so much when he first came out ("One Time" and "Baby" and "Eenie Meenie" were my jams for awhile). Now we're back on good terms again and I'm enjoying his new music. (This one was so good that there's also a Volume II.)
One Direction Carpool Karaoke – I'm a little too old for them to be one of my favorite boy bands (hello, Backstreet Boys), but I really like the moments where they all improv together. It showcases how musically gifted they are, as well as how well they can work off one another after performing together for 5 years. (Another classic segment that the band did with him was "Dodgeball with One Direction.")
Adele Carpool Karaoke – What's not to love about these two hanging out? It was only posted 2 weeks ago, but it's already the most popular video on his channel with almost 60 million views.

Talent – He's, like, really talented. He's quick on his feet and can banter with the best of them, he's self-deprecating (a.k.a. "If I wanted to make it in Hollywood, my move wouldn't be to start hosting a show that starts at 12:30 am on CBS."), and has spectacular comedic timing. That being said, he's not just a funny guy. He can also sing beautifully and his dance moves aren't bad either. He duets with some of the biggest names in music during Carpool Karaoke and holds his own. There's usually even one moment where he hits an especially difficult note and you just see the celeb's face drop in astonishment. Exhibit A: 
Good values – He loves and adores his wife and seems like such a genuinely good person. (If I ever find out that's not actually the case, I'll be more than a little sad.) When Stevie Wonder was doing Carpool Karaoke with him, James asked him to call his wife. Stevie did and sang "I Just Called To Say I Love You" but changed it to "I just called to say James loves you" and James teared up as he did it. Want more proof? Check out him rushing to Katie Couric's aid when she fell down the stairs making her entrance onto his show. You'd think that's just a normal, no-brainer response, but you can see audience members in the background stifling giggles instead of showing concern.
All that being said, I guess what it really comes down to is I feel like there's no one having more fun than him in Hollywood.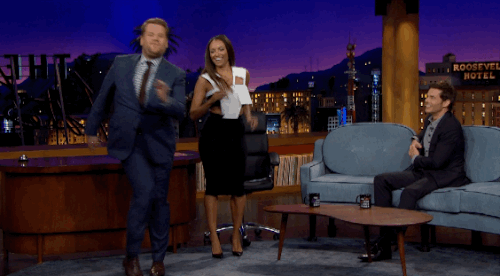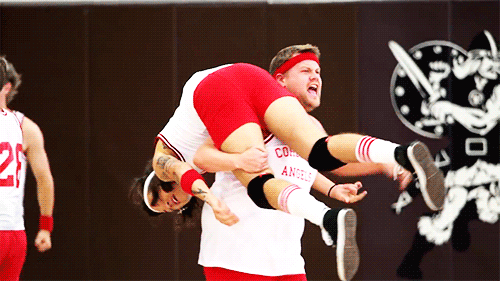 He's silly and un-self-conscious, never takes himself too seriously, and seems like he's the type of person who's charismatic because he brings out the best in the people around him, not because he's shining a light on himself. He's just a winner, okay?! I've said enough, if that hasn't convinced you to binge watch his YouTube channel, nothing will.
*Thanks so much to James Corden for sponsoring this post!*
*Joke