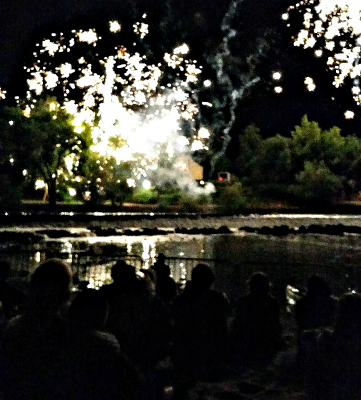 Last year, on Bastille Day, I was in a small town in the southeast of France, volunteering on a farm in the countryside.
The week there turned out to be less than ideal, but the night of Bastille Day was an exception to that. My host and I went to the local fireworks celebration and the entire small town seemed to turn out for it.
People of all ages gathered in an open, grassy area to eat, drink, and dance beforehand. Then we all went to sit on the beach by the river. It started with people rowing by in canoes with torches lighting their way as the local tradition dictated and then the fireworks began across the river. Cheery pop hits blared out and the fireworks were timed with the music. Afterwards, the dancing continued.
I hadn't been expecting much since it was such a small town, but they really went all out for it. The fireworks lasted a long time and had many moments that made the whole crowd ooh and aah collectively.
So when I heard about the attack on a Bastille Day crowd in Nice that killed 80 people today, it broke my heart once again. (I say once again because it seems like 2016 has been filled with horrific events recently.) It hit especially close to home because, having experienced it last year, I can picture very clearly the merriment and sense of community that comes with celebrating Bastille Day. 
To have that feeling of celebration and happiness torn from France in such a horrific way on the night of this beloved holiday is particularly cruel. Praying for the lost ones, their loved ones, and our world tonight.