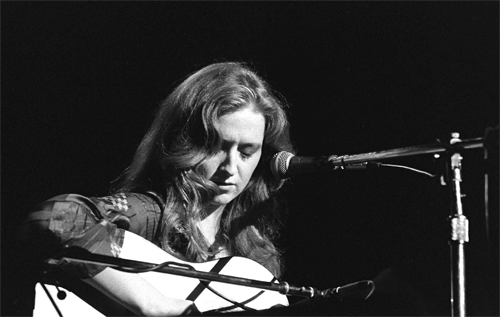 I went to a Bonnie Raitt concert tonight at the Fox Theater in Oakland and she was magnificent. Her husky speaking voice, her soulful singing, her support and promotion of her opening act — she's just a wonderful artist and a class act.
I was reading her Wikipedia page on my BART ride home and she's really a kickass lady. She's fought and beat alcohol and drug addiction. It took twenty years of putting in the work and creating album after album before she broke through and gained widespread commercial success (she gained critical success very early in her career, but album sales didn't follow until she got her first breakout hit in the late 80's).
Her ballad "I Can't Make You Love Me" is one of the truest love songs in existence and has always broken my heart a little every time I hear it. "'Cause I can't make you love me / If you don't / You can't make your heart feel / Something it won't."
Bonnie doesn't just speak truth in her songs, she spoke it on stage as well. When thanking the crowd for coming out, she added, "We're so grateful for your support so that we don't have to get regular people jobs." Or when reflecting on the passing of Prince and the number of other great artists who have passed in recent years, "Time is marching on and we're marching with it. I can't believe how many people we're losing. Take every breath you can and live for the people who aren't here anymore."
When I told people my age that I was going to a Bonnie Raitt concert this weekend, most of them didn't really know who I was talking about. I'd say that the average age of the crowd tonight was at least 40, possibly 45-50. (As a side note, this made for a really interesting viewing experience because everyone was just listening and enjoying, not recording everything through their phone. When I realized this, I started to take note of whether anyone besides me was taking photo or video and I only saw two other people. Then, for the very last song of the concert, Bonnie specifically mentioned that she and her band didn't mind if people got their phones out and then 20+ folks got their phones out. Is this some kind of older person concert etiquette that I didn't know about?!)
Since I was the youngest person I saw there, if you haven't listened to her music or don't know who Bonnie Raitt is, I'd recommend that you change that pronto. You can read a recent interview of hers in Lenny Letter here and then start by listening to  "I Can't Make You Love Me," "Something To Talk About," and "Angel in Montgomery." I'm planning to dig into her music more (I've really only scratched the surface, considering she has decades of work), so maybe I'll also dedicate a Music Monday post to her in the future.