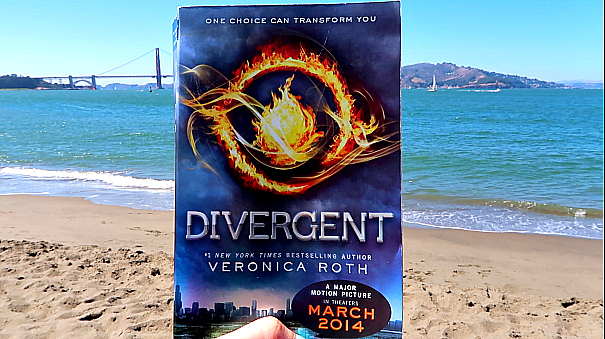 On the back cover of Divergent by Veronica Roth, there's a quote from a review by BookPage: "You'll be up all night with Divergent." Well, ain't that the truth.
I'm here to tell you why it was worth the loss of sleep. But first, here's the general premise: One choice can transform your life forever in dystopian future Chicago. We follow 16-year-old Beatrice Prior whose society is divided into five factions that live by very specific beliefs that guide all their actions. At age 16, everyone has to decide which faction they'll live in for the rest of their lives: the one they were born into or leaving their family behind to join one of the other four. We meet Beatrice right before she has to make this decision and then watch her life unfold after it.
Here's why I loved this book:
ONE.
It makes you (want to be) braver. One of the factions is called Dauntless; they play a large role in the book and the virtue they most value is bravery.
At first, as a naturally very cautious person, they horrified me. We first meet them on p. 7: "I pause by a window in the E Wing and wait for the Dauntless to arrive….At exactly 7:25, the Dauntless prove their bravery by jumping from a moving train."
Seem likely a recklessly stupid group. By the end, though, they actually inspired me a bit to see how I could be braver in my every day life. "Becoming fearless isn't the point. That's impossible. It's learning how to control your fear, and how to be free from it."
I was so nervous scrambling down the side of a cliff this past Sunday. But at the bottom, I remembered the Dauntless faction and found myself moving with more confidence and courage when I had to climb my way back up. Perhaps it's time to paraglide off another mountain?!
TWO.
It's a page turner that will quickly and effectively suck you in and have you saying 'just one more chapter' until it's suddenly 2 am and you hate yourself for not being asleep yet. I was having an overwhelming, stressful week when I read Divergent and, at night, it helped take me away from my own troubles. Beatrice's world and the characters in it will captivate you and make everything else fall away during the time you're immersed in Divergent.
THREE.
Beatrice is a strong protagonist who creates her own story. The plot moves forward because she moves it forward. "And I'm the kind of person who does not let inconsequential things like boys and near death experiences stop her." She's complex, intelligent, sometimes selfless/sometimes selfish, determined but at times doubtful of her own abilities and appeal. I liked her a lot.
Have you read the book? Or seen the movie? If so, would you recommend watching it? Let me know in the comments!