Slow but sure, I'm plugging through my winter-spring reading list and wanted to share my first book recommendation: Outlander by Diana Gabaldon.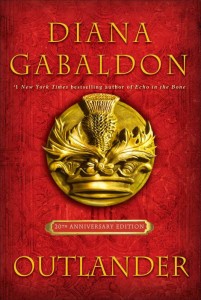 This book was recommended to me by my good friend and didn't disappoint. That being said, it features time-travel and at times unbelievable twisting turns of fate and coincidence, so you do have to suspend reality for the majority of it.
In Outlander, Diana Gabaldon channels the Scottish ability for folklore, couples it with her own research ability and dedication to rich historical detail and accuracy, and has created a love story that's unusual and unlike anything I've read before.
Claire Randall, a strong-willed, intelligent English nurse from the 1940s, gets transported back in time to the Scottish Highlands. As an Englishwoman in Scotland at that time, Claire is a "Sassenach" or outlander.
It's fortunate that she was a WWII combat nurse because she sees and must survive a lot of violence in her new home, the Scottish Highlands in the 1700s. Claire's feistiness and daring often saves her own life and also leads to some quite remarkable, intense fights with other characters in the books. Diana Gabaldon also has the ability to insert humor in the unlikeliest places, so you'll be suffering right along with the characters in the middle of a harsh argument when someone will say something surprising or witty that makes you laugh out loud.
I won't say more than that because I don't want to give away or hint at major plot details. If you like strong heroines, adventure, romance, historical fiction, or surprising twists, you'll probably like this book.
It's almost 600 pages long and it was a little slow at the beginning for me, so at first it seemed like quite a time investment. But once I got into the book a bit, it really started rolling and became a page turner I had trouble putting down (plus, now I desperately want to visit the Scottish Highlands).