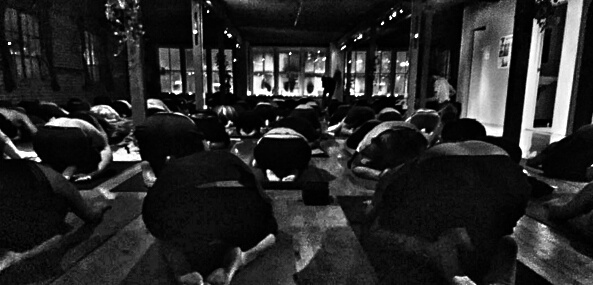 Even though I made a video sharing four of my most important resolutions for the year, I also have a bunch of small, everyday goals as well. One of them is to Just Say Yes! Depending on how this goes for me, I might write a separate post about why I'm choosing it as one of my mantras for 2016. In the meantime, I'll just sum it up by saying it means becoming a "yes woman" and going for any opportunities that come your way, especially if it might be out of your usual comfort zone. If you want to learn more, check out Zoe's video or Rosie's blog post.
That means, when my roommate invites me to go to an evening session of hot yoga by candlelight, I go.
I have had short periods of time when I've done yoga semi-regularly, but in general I don't have much flexibility and my arm and ab strength are at a low at the current moment. Hot yoga has the room temperature bumped up to a sweaty 92 degrees, adding a degree of difficulty (but, two sides to every coin, also relaxing your muscles quickly and allowing you to stretch deeper than normally possible) .
We went to a studio in our neighborhood that is unmarked and up four flights of stairs – getting up to the yoga room was a workout in itself! About 130 other people also showed up for class, so the room was crowded but filled with energy.
It's especially chilly in San Francisco tonight, so walking into the heated room actually felt nice and cozy. Then our instructor put us to work and the sweat started streaming off everyone.
It turned out to be the perfect way to spend this evening, my last free night before the holidays are officially over and I go back to work. There's just something about yoga and the focus on the body and breath that transforms it from an exercise to a spiritual practice. I left calmer and cleansed, ready for the week. Now that I'm back at my apartment, a little bit of anxiety has slipped back into me, but for that hour of class I felt amazing, even as my arms and legs ached and threatened to give out on me.
I guess another resolution will need to be to do yoga once a week. When I stop doing it for awhile, I forget just how beneficial it is. Now that I've not only started agin, but written the experience down, hopefully I'll have no choice but to remember and start to incorporate it into my life!