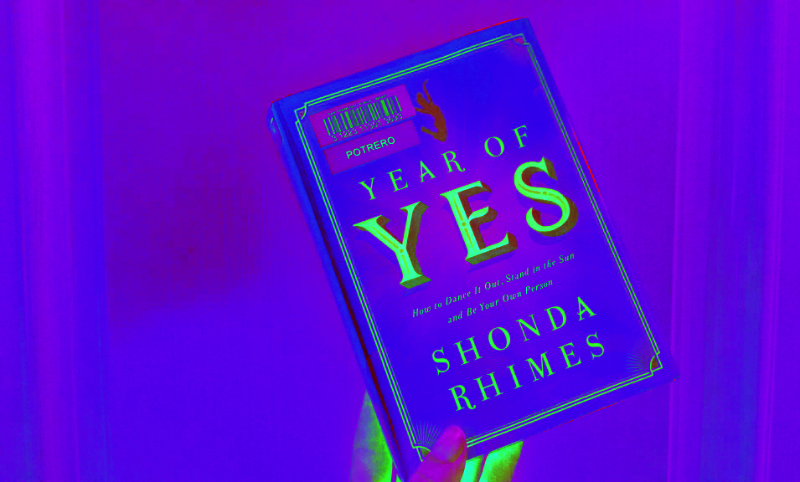 Shonda Rhimes writes her book, "Year of Yes: How to Dance It Out, Stand In the Sun and Be Your Own Person," the same way that she writes her TV scripts. It's her first book, but she didn't fall into the trap of trying to transform herself into a literary award-winning memoirist. She stuck with the simple, straightforward speech peppered with humor and wisdom that got her where she is today. Think Meredith's monologues in Grey's Anatomy rather than Isabel Allende's flowing, complex, imaginative prose.
It took me a little while to fully warm to the book. "Just say yes" has been a mantra for many for quite awhile, so Shonda's decision to turn her life around by saying yes to new opportunities didn't ring that original to me. There are some true gems of wisdom in there, though, so I wanted to share a few of my favorite parts with you.
ON WEIGHT LOSS:
My body is just the container I carry my brain around in.
I said it while I ate cartons of ice cream.
I said it while I ate whole pizzas….
And maybe it is. Maybe it is just the container I carry my brain around in.
But so is a car. And if the car is broken down and busted, my brain isn't going anywhere. Same goes for my container.
________________
The food created a nice topcoat. It helped to smooth down the ragged bits. Sealed off the parts of me that were broken. It filled in all the holes. Covered up the cracks. Yep, I just put some food on top of any and everything that bothered me….And presto! Underneath the food, everything inside me was smooth and cold and numb.
I was dead inside and that was good.
Magic.
Don't ever let anyone tell you that food doesn't work….Putting food on top of it works. If food did not work, if it didn't work its slutty, gluttonous, more-is-more magic, everyone in America would be Angelina Jolie thin. No one would drive-thru….
Food does work. Food feels so good when you put it on top of all the stuff you don't want to deal with or know how to deal with it. It even works on stuff you don't even recognize as worthy of dealing with.
Food is magic. It makes you feel better. It numbs you. Beautiful magical food deadens your soul just enough so you can't think too hard about anything other than cake or sleep. Putting food on top of it casts a spell to make the feelings go away. You don't have to face yourself or think or be anything other than your brain — no body necessary.
________________
I work hard — that's now I succeed. That's how ANYONE succeeds. So why in the world did I think weight loss would be any different?
Somehow, this idea is a lightbulb for me. The idea that this is not fun — this is badass warrior work. The idea that I am NEVER going to enjoy losing weight.
________________
Are you ready? Here's how you know if you are ready or not: Three years ago, if someone had said something to me like "Nothing works until you are really ready for it to work," I would have force-fed them butter until they weighed one thousand pounds. Because that sounds like crap. Everything sounds like crap until you are in the right mind-set.
________________
ON WRITING:
Writing is the hum. Writing is laying track. Writing is the high.
Now imagine that hum, that high, that track to be laid is behind a door. And that door is five miles away. Those five miles are just….writing crap and doodling and trying to have an idea and surfing the internet and hoping like hell not to get so distracted that you give up. Worse? Those five miles are lined with brownies and cupcakes and episodes of Game of Thrones and Idris Elba waiting to talk to only you and really good novels to read.
Every time I sit down to write, I have to mentally run those five miles past all of that to get to that door. It's a long, hard five-mile run. Sometimes I am almost dead by the time I reach the door.
That's why I have to keep doing it.
The more often I run the five miles, the fitter I become. And the fitter I become, the easier the run begins to feel and the less fresh and exciting all that stuff on the side of the road seems. I mean, how long has it been there? More important, as I get fitter, I can run faster. And the faster I can run, the faster I can get to that door.
The faster you can too, writers out there.
When you sit down to write every day, it becomes easier and easier to tap into that creative space inside your mind.
________________
ON HAPPINESS:
There is one rule.
The rule is: there are no rules.
Happiness comes from living as you need to, as you want to. As your inner voice tells you to. Happiness comes from being who you actually are instead of who you think you are supposed to be.
________________
THE POWER OF SAYING YES OVER TIME:
The Year of Yes, I realize, has become a snowball rolling down a hill. Each yes rolls into the next into the next and the snowball is growing and growing and growing. Every yes changes something in me. Every yes is a bit more transformative. Every yes sparks some new phase of evolution.