After my fabulous weekend playing beach frisbee with some of the best people I know, my friend and I stayed in Southern California for an extra day and a half to hang out and do some touristy stuff. We had booked lodging at an awesome AirBnB apartment up in the Topanga Canyon hills, but we were both really busy in the lead-up to the long weekend, so that was the extent of our planning.
On Monday, we slept in, having stayed up late the night before having heart-to-heart chats with our friend who had to leave at the crack of dawn that morning. Then we spent probably an hour googling what to do. Trip Advisor, Yelp, blog posts on the must-see sites in Los Angeles…the possibilities seemed endless and we were struck by the paralysis of analysis.
The morning was passing us by and I was starting to get slightly panicky. We'd have a good idea, like taking a food tour, and then discover that it was too late to book that day. Why hadn't I just made time to plan our activities in advance?! Thankfully, we started making some decisions and from there, the perfect day just sort of fell together for us.
It all started at Duke's Malibu. A Hawaiian seafood restaurant right on the water and only a 10-15 minute drive from where we were staying.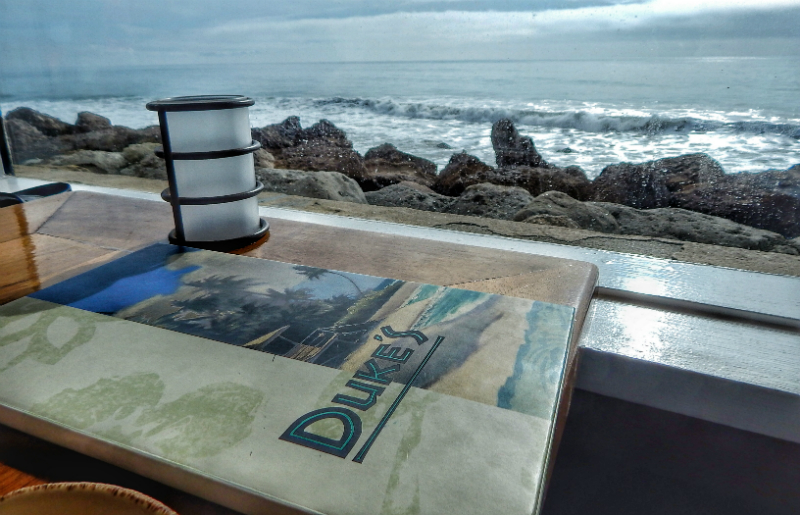 We split two appetizers, the crab and cream cheese wontons and the steamed pork buns, and an entree.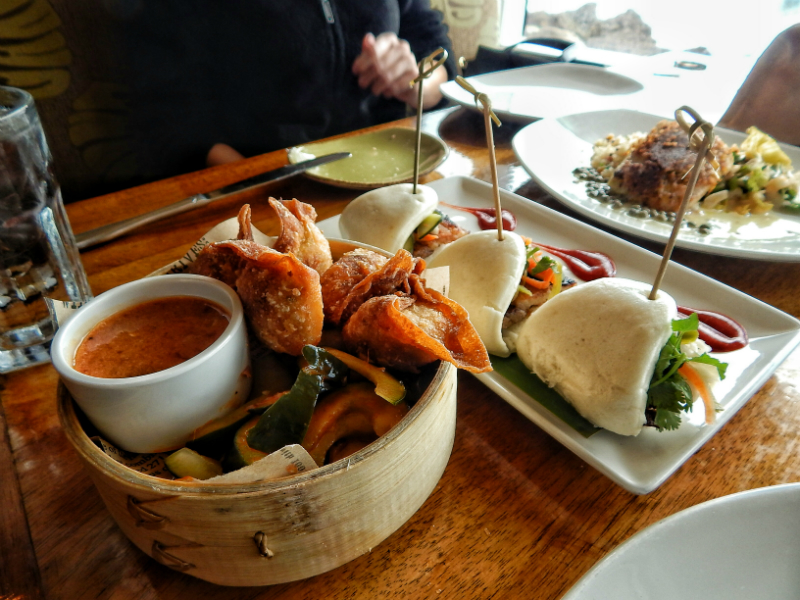 The entree was the pièce de résistance: parmesan and herb crusted fish with panko, macadamia nuts, lemon, capers, bok choy slaw, and house rice.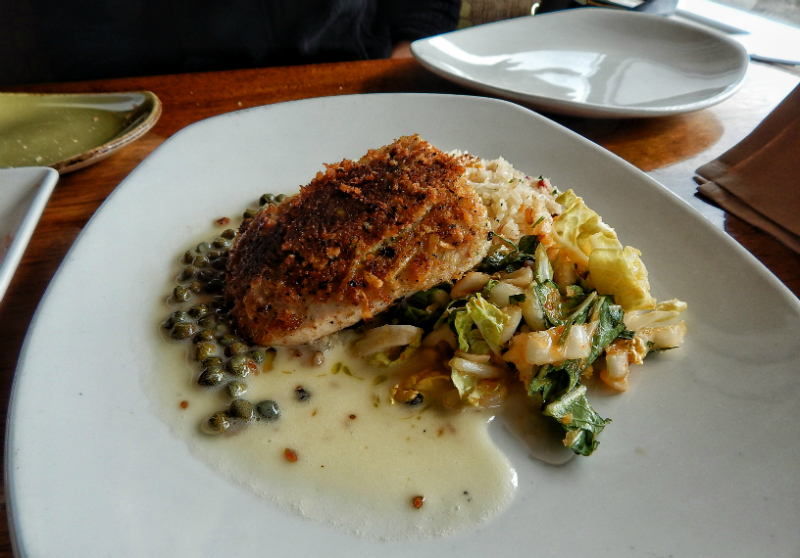 (Not pictured: the bread that they bake fresh for you after you've arrived. I had 3 rolls in addition to all the food we ordered that I packed away. Once I started dipping the bread into the buttery lemon sauce the fish came in, I couldn't stop!)
Our waiter was really nice and the restaurant had a great, homey feel about it. We left feeling very full but on top of the world. Good food and atmosphere can do that to you.
Up next was the Getty Villa, just a short drive up the road. Tickets are free but you have to reserve your space online and we'd gotten a timed entry spot for 1:30 pm. Since it was a holiday, it was busy, but because they only let a limited number of people in, it wasn't overly crowded.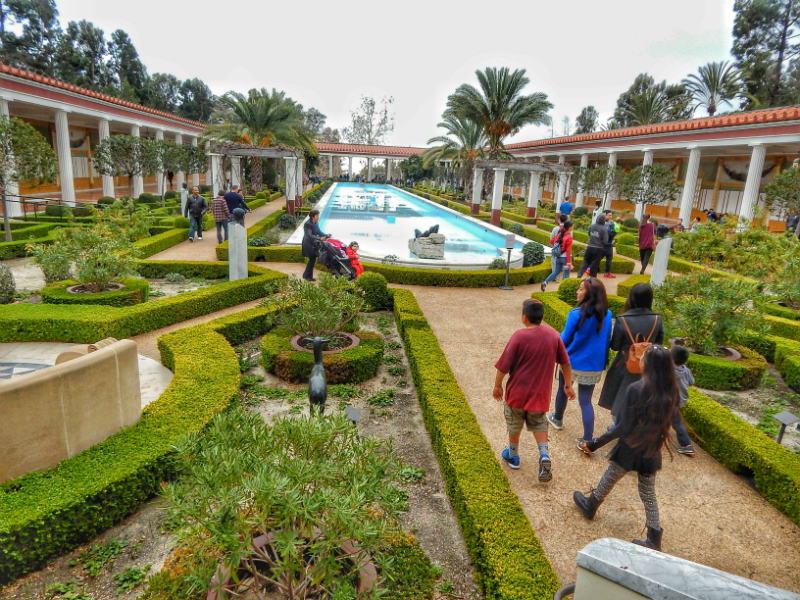 We took a tour, saw a lot of antiquities, learned more about ancient Greece, Rome, and Etruria, and wandered the beautiful grounds. If you're wondering whether the parents of the cute kids below got scolded, I believe the answer is yes. A security guard was charging after them shortly after this.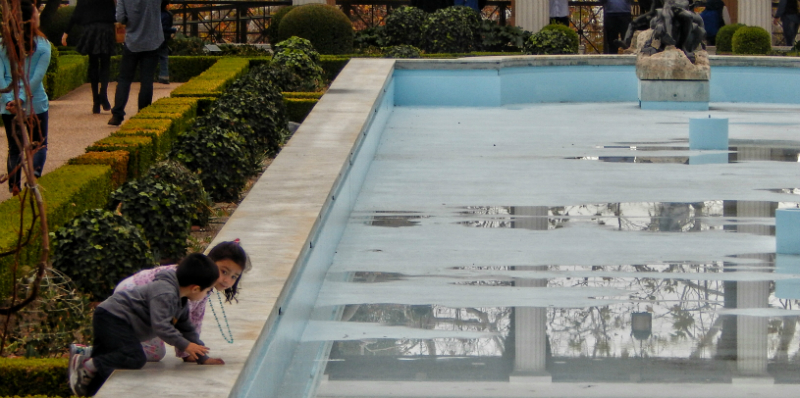 Everyone seemed to want to leave at the same time, so there was a line of cars to get out of the museum. As we waited our turn to merge out into traffic, the thought occurred to us that we could go for a little late-afternoon treat. A quick internet search later, we were headed to a 5-star rated coffee shop that was less than 5 minutes away.
My K Bakery scone was packed to the brim with chocolate chips – it was like they knew me! (My friend also enjoyed her lemon bar.)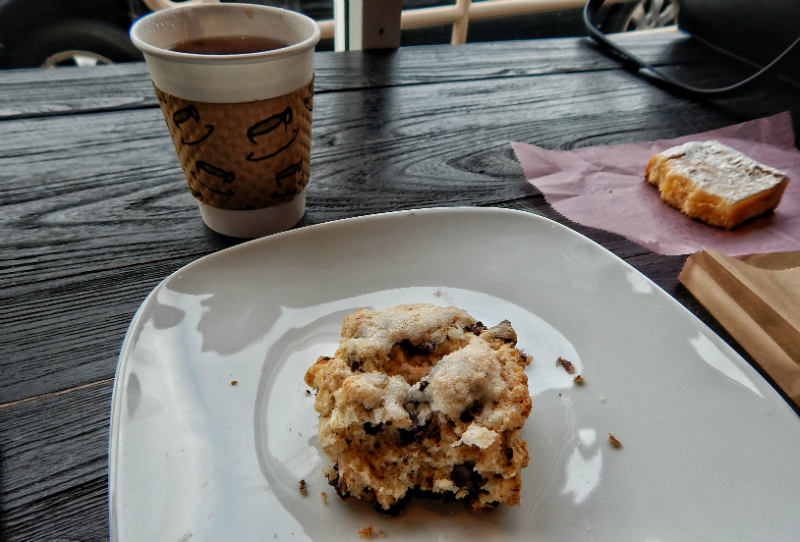 This was the perfect end to our fortuitous day in Malibu.
After that came our evening in Hollywood, which I'm going to save for another post! If you're ever in Malibu, I'd highly recommend visiting any or all of the places that I mentioned.