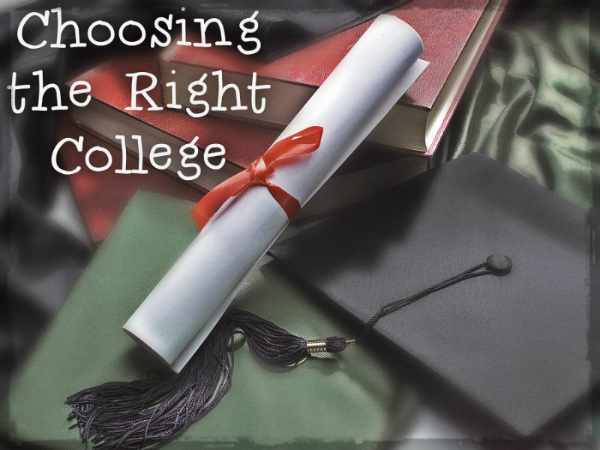 Source: Flickr
I spent the majority of today interviewing prospective students for my university. I loved talking with high school seniors about their passions and future plans and reminiscing about my school, but as fun as it was for me, I also remember very clearly being in their position and feeling the stress of the world on me.
Would I get in to my dream schools? How would I choose which college to attend? What if I made the wrong choice?
I don't think there are a lot of high schoolers reading this blog, but just in case some happen to come across this, today inspired me to share my tips.
I'm not an admissions expert – there are plenty of other resources for figuring out how to make yourself the best possible candidate for the admissions process – but I am someone who absolutely loved my college and had four of the best years of my life there. So here's my advice that I hope ends up being helpful for someone somewhere someday:
There is no "right" college, it's all about choosing the right college for you. If both your parents went to the same university and you're pretty much guaranteed legacy admission, but something about the school doesn't feel right to you, then don't go there. Now that you're nearing adulthood and making a choice that will affect the rest of your life, it's time to make some tough decisions about your future and sometimes that means not pleasing everyone. You shouldn't make your decision based on the wants of anyone else except for you. (That being said, I know it's not possible for everyone to be afforded this luxury. I had a friend in high school whose parents made her choose between colleges in a 100 mile radius of her home or they wouldn't pay for it. If that's the case for you and you don't want to cause a family rift or put yourself through college, then you can still make the best of wherever you end up and have an amazing experience, but this might not be the post for you.)
Visit the schools you get into and try to do an overnight stay with a current student. There's a world of difference between going on a one hour college tour and spending 1-2 days living the life of a college student. By attending classes, eating meals with current students, going out to parties, etc., you're able to judge for yourself far better whether it's a fit for you than just by reading materials online and taking a brief tour. If a college has Admitted Student Days where they'll set you up with a current student, take advantage of it! Or, if you have a particular interest, like playing a sport, try to reach out to the coach to see if they'll match you up with someone.
Prestige matters, but only to a certain degree. You want to go to the best college possible so that you'll have access to amazing learning opportunities and set yourself up for a successful postgrad life, but we don't all need to go to Ivy League schools. There are thousands of colleges in the U.S. Not all of them offer a high quality education, but at least hundreds of them do. You don't want to go to Murry's House of Learnin' where you're going to graduate with thousands of dollars in debt and not have anyone recognize the value of your education, but there are plenty of really good schools that aren't in the top 10 lists and that might be a better fit for you socially, culturally, or academically than the most famous universities.
Choose a college based on your values and priorities. My school has a reputation for being full of kind, happy, hardworking students who are competitive with themselves but not cutthroat with others to get ahead. When I visited the school, I loved how nice and welcoming everyone was. Not every school is like that, but that's okay because not every student is like that either. Some people thrive in a cutthroat, highly stressful environment; there's nothing wrong with that, it's just about recognizing the type of person you are and what kind of values you want the students at your school to embody. Or maybe you want a school that's so large that there is no one unified student body, but rather it's like a small city of 30,000 people. Write down the type of educational environment that you think you'd flourish in based on what you value and prioritize going to a school that fits with that.
Be honest with yourself. Have you always really hated the cold? Maybe a school in the Midwest or Northeast isn't the best fit for you. Do you thrive in a city environment and get bored easily? Don't put yourself in an isolated, rural location! Every college will likely have one or two borderline "deal breakers" that you wish were different. No place is perfect and college is a time for opening yourself up to new experiences. That being said, don't put yourself in a position where there are 3-5 things about your college that you seriously dislike and that could make you regret your decision down the line.
I'm sure I could go on, but that's a good place to start. I'll end with this: I said above that this is a decision that will affect the rest of your life. I really believe that to be true: it's a big decision to decide where you want to live for the next four years and which college deserves your significant financial investment. That being said, life isn't a linear line for anyone. Two of my good friends transferred to our school as a sophomore and junior respectively; they didn't choose "right" for themselves the first time around and there was some unhappiness at their original choices, but it all worked out in the end. Just something to keep in mind as you make this decision. College is what you make of it and if you aren't happy where you are, you can always change it!
Let me know if there are any questions in the comments!