Girls premiered on HBO on April 15, 2012.
I was living in South Korea at the time. I remember browsing online at my desk/dinner table in my small studio apartment and seeing the internet just going crazy about this new show.
What was this fresh, bold, revolutionary show that everyone was raving about? I had to know, but I also had no access to HBO in Korea. I ended up streaming it illegally and that first scene, when Hannah gets cut off financially from her parents, shocked me as it dawned on me that Hannah was the main character of the show.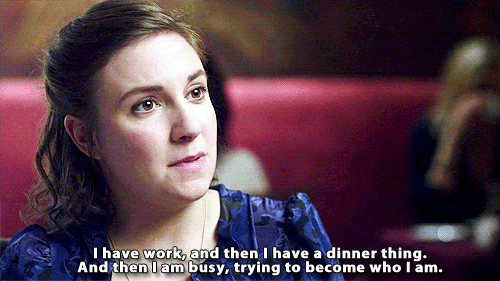 I had to pause the show immediately and google Lena Dunham. This was the lead of the show, the 25-year-old wunderkind writer and star that everyone was praising? But she weighed more than 100 pounds and looked like you and me….Girls like that didn't get their own shows in Hollywood!
Seeing someone whose face and body related more closely to mine than a supermodel as the main character instead of a side kick was revolutionary in itself and that was before you dove into the nitty gritty of the show.
I quickly got just as addicted as everyone else. The characters behaved in ways that I never would and said things I would never say. They were selfish and self-absorbed and self-entitled to an extreme. And yet I related to them so completely. I felt like they were accurate representations of my generation, even as I knew that none of my fellow millennial friends or I would ever act like that.
All four characters were lost and questioning and swirling around in the early twenties madness and I so got that. Plus, Hannah and her friends didn't infuriate me (most of the time); they were hilarious.
Girls is a coming-of-age story. It comes out at the beginning of the year for 10 or so episodes and then leaves us until we in the audience are all another year older. I would get frustrated with the characters when I felt like they weren't maturing enough and then, just as I was about to lose hope on them and their antics, there would be some small breakthrough step forward.
When I realized this week — via the #endofGIRLS goodbye posts that have been going up on Instagram — that not only was the show's last season almost finished taping, but that it had been six years since it began, I was like WTF? It's been six years?! 
But at the same time, it doesn't seem that crazy. We've matured together over the past six years. We had the low or unpaid internships together, the friendships that have grown apart, the mistakes and growing pains and heartbreaks, the occasional triumphs. We're, thankfully, so far from where we were when the show first began, but still don't by any means have it all figured out.
(Random fun fact: Girls helped me film my first sit-down-and-talk-to-the-camera YouTube video. Before that, I was too nervous to be in front of the camera. I decided to give it a go and see what it would feel like with my video 12 Things I Learned From The HBO Girls Season 4 Premiere! and then ended up finding that I enjoyed it and didn't hate seeing myself on camera like I thought I would.)
I can't wait to see the final season in 2017 and see where the girls are now. I'm going to try to really treasure every episode because I'm going to miss this show so much when it's gone.