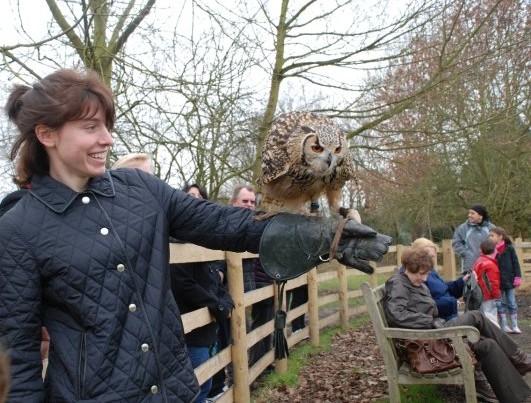 Here's me on this date seven years ago. How do I know? Facebook, of course.
I'm conflicted about Facebook popping up memories in my timeline and asking if I want to share them. They usually give me a little happy flashback, but sometimes they'll just remind me of a friendship that has ended or lead me down a nostalgia hole when I'd had no intention of missing the past.
Or today, for instance, I had a good day, but when I happened to look at this memory that Facebook shared, I was chowing down on Bagel Bites at home, wasting time on Facebook. I'd much rather have been in the English countryside with an owl on my arm!
When confronted with old, happy memories, it's so easy to then fall into a comparison trap where I wonder why my life isn't as fun and cool as that at this exact moment. I then have to talk myself back off that ledge and remind myself of how productive and satisfied I felt at work today, of what a beautiful day it was, of the wonderful memories I've already been making in 2016. 
No, Facebook, you won't make me feel bad or convince me that I should share this photo with my friends in some kind of attempt to relive my time in England, like 'look how much fun I had with an owl in 2009, ya'll!' Get outta here, Facebook, I ain't got time for your flashback nostalgia today.