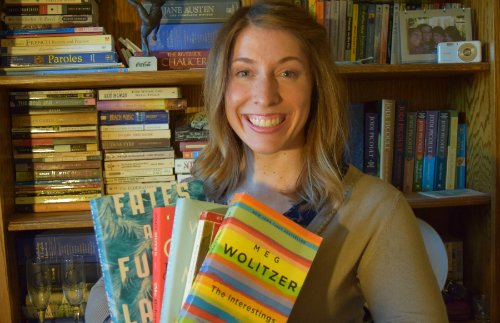 I'm sure I'll share a lot of book recommendations on this blog. Reading, from a very early age, has always been my "thing." I devoured books as a kid and it was always one of my favorite subjects in school. Nowadays, reading is forced to compete with work, seeing friends, Netflix, and Hulu, but I've been making a concerted effort to carve out more time for it. 
I'm hugely appreciative when someone steers me toward an awesome book, so today I shared five of my favorite books from 2015 on my YouTube channel. However, as I mention in my video, I didn't have all of my 2015 favorites on hand to show in the video, so my list was incomplete. 
But now I have this blog and can add more of my thoughts here if I feel a video is incomplete! Here are three more books that I loved in 2015:

What Alice Forgot by Liane Moriarty – My friend gave this to me as a going away present when I left DC. Since it's over 400 pages, I figured I'd bring it with me to Europe and spend the summer reading it when I had time in between adventures. It was engrossing enough that it helped me forget my fear of flying as I crossed the Atlantic and then I promptly finished it the next day on my overnight train from Paris to Milan. The second day of my two month trip and the only book I brought was finished….I then had to read books off the Kindle app on my phone for the rest of my trip, but it was still worth it because anything that's enough of a page turner to help distract me from my fear of flying is a winner and worthwhile. 

Short synopsis: 39-year-old Alice hits her head at the gym. When she wakes up, she's lost ten years of her memory. The last thing she remembers is being pregnant and madly in love with her husband. Except it's ten years later, she has three kids, she's divorcing her husband, and her life is nothing like she once expected.
Zorro by Isabel Allende – I recommend this because it was the Isabel Allende book that I read in 2015, but I really whole heartedly recommend any of her books. If it's your first time reading an Allende, you might want to start with Eva Luna or Paula. She's a masterful storyteller that transports you into another world. To be honest, I'm a very dialogue-driven reader. I prefer interesting, snappy dialogue to pages and pages of description. Isabel Allende challenges that preference. She doesn't rely on dialogue to propel her story forward; she somehow manages to describe everything in great detail without boring me and instead slowly drawing me in until each of her books becomes a page turner for me.
Short synopsis: This is the story of the life of Diego de la Vega, the boy who would grow up to be Zorro. It chronicles Zorro's origin story from his early life as a half Native American-half Spaniard in California in the early 1800's to his time in Spain from 1810-1815, and then back to the New World.

It's What I Do: A Photographer's Life of Love and War by Lynsey Addario – I just learned this is going to be made into a movie starring my (and America's) favorite actress, Jennifer Lawrence. Steven Spielberg will be directing. Talk about a power duo! But it's very fitting – I can't imagine anyone doing better justice to Lynsey's story as a war photojournalist than them. Read it now before the movie comes out so you can hear this story from the photographer's mouth first! This is a blog post for a different time, but I read this book while on a weekend trip to a beach house with friends and it made me question my own life choices, the US's political choices, the unfairness in the world, etc. I don't know if that's a universal reaction – it probably isn't – but for me, Lynsey's look into the Middle East had me questioning a lot of uncomfortable, existential topics.
Short synopsis: This is the memoir of Lynsey Addario, a war photographer who's been in Afghanistan, Iraq, and Syria.
Let me know some of your favorite books from 2015 in the comments!