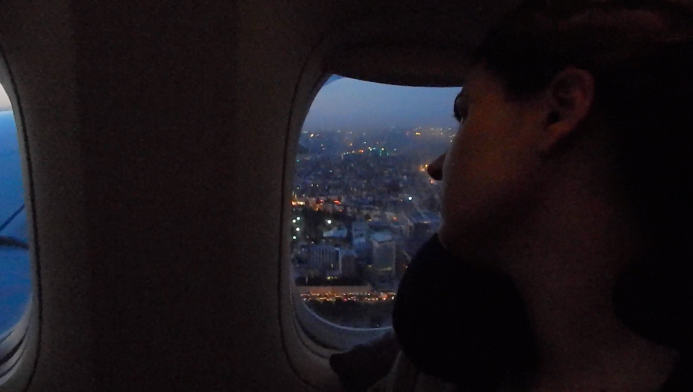 I worry that I'm going to jinx myself with this post, but jet lag has really been my friend after coming back from Europe this week.
If you watched my Prague vlog until the very end, you saw that jet lag comically got the best of me on my second day in Prague. Since coming back to the U.S., though, I've found that the disruption to my sleep pattern has really helped me.
I had thought that 18 hours of travel both ways and a whirlwind trip through Germany and the Czech Republic would leave me exhausted and running on fumes this week. Instead, I've had a more consistent, healthy sleep schedule than in quite awhile. I'm talking waking naturally at 6:45 am this morning, feeling bright-eyed and bushy-tailed. I haven't been a morning person since early elementary school, so that's really unusual for me (and has felt so good that I'm really hoping I can keep it up and live this new lifestyle long-term).
This isn't the first time that I've been able to use jet lag to my advantage, so here are my top 3 tips for beating jet lag:
During your trip:
According to this USA Today article, "Factor in one day of recovery for every time zone shifted. From the East Coast of the U.S. to Europe, a six-hour time difference, you can thus expect six days to recover fully." I don't think that my body fully adjusted to the time zone I was in this past week and I didn't really want it to adjust. When you're only going to be away a week, that just makes coming home more difficult. Instead, one of the ways that I made sure I was still sleeping through the night was by taking two Tylenol PM pills before bed. When I didn't do this, I was wide awake at 5 am and then exhausted by 6 pm. Taking something like that or melatonin can help you sleep through the night, even when your body isn't adjusted to the timezone you're in.
During your travel:
Pay attention to when you'll be landing in your home country. I got back to San Francisco around 5 pm, so I didn't sleep at all on our 12 hour flight from Istanbul to SFO. If I'd been landing early in the day, I would've prioritized sleep on the flight (maybe even taking some melatonin) so that I could stay awake the rest of the day and not succumb to the urge to take naps. You want to get on the same sleep schedule as your current time zone as quickly as you can, even if it means forcing yourself to be awake when you don't want to or coaxing your body into sleep on the plane.
After you come home:
Once I arrived, I forced myself to stay awake for a few more hours and then was so exhausted that when I finally went to bed I slept right through the night. Since I'd still gone to bed early, I was able to sleep for 10 hours to catch up on what I'd missed and then wake naturally at an early time. I also made sure to exercise the next day, which gave me added energy to help me stay awake through the afternoon (prime napping time) but left me tired enough in the evening that I felt the urge to go to bed at a decent time again. From there, it's been early to bed with a good book, rising early and naturally before my alarm, making sure to exercise, and then repeat. 
(If you're wondering, no, having your best sleep schedule ever after your European vacation does not make you popular with your family members who are struggling with random 2 am wake-ups and blurry-eyed slogs through the days this week.)