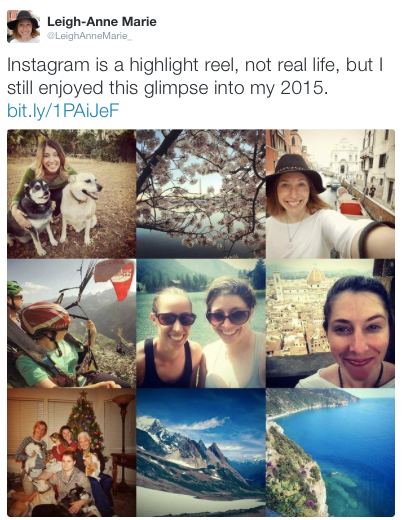 I've been thinking about social media a lot lately. Its benefits, disadvantages, how I use it, how others use it, the role it does play versus the role it should play, my life before social media, etc. I'm going to write more when I have time to do a more thoughtful post about it, rather than right now when I'm coming off an epic four-day, fun-filled long weekend and am nearing exhaustion as I wait for my plane home.
My tweet above is true – I really did enjoy the glimpse that #2015bestnine gave into my life over the past year. I tend to only share moments on my Instagram where I'm really happy, so it truly was looking back at some of my best moments in 2015. If you heard about Essena O'Neill quitting social media, you'll know that one of the reasons that she wanted to get off social media was because of how fake she felt it was. People manufacturing images in an attempt to portray and monetize a perfect life.
In comparison, my Instagram has genuine moments from my life that I was able to (imperfectly) capture, so I can't do a "behind the image" truth expose, like Essena did before deleting her account. But that doesn't mean it's not still a highlight reel, so I want to give a little peek into my "Life Unfiltered."
I take that term from the ESPN article, "Split Image," about the suicide of Madison Holleran, a Division 1 athlete at the University of Pennsylvania. There was also a spin-off to that article called "Madison Holleran's Friends Share Their Unfiltered Life Stories." Both are really important and I hope you take the time to read them.
The first one tells Madison's story. On Instagram, her life looked perfect (beautiful, thin, popular, successful athlete and student, beloved by friends and family). She was able to hide her internal struggles from the world, even those closest to her. Two years and two days ago, Madison jumped off a ninth floor parking garage, killing herself at age nineteen. This was just hours after posting this beautiful photo on Instagram:
The article made me cry (just reread it and it still makes me tear up) and helped me to start realizing the real damage that social media can do. The unhealthy comparisons, the pressure to live up to what your friends are doing…we consume these glossy images so frequently that they can seep into our thoughts and start to feel like reality without us realizing it. I think it's important to counteract that by reminding ourselves and others that social media is not real life and can't be judged as such.
So here are some back stories on my top 9 Instagram photos of 2015. I'll start with the top left photo and work my way down in horizontal rows.
Posing with my family's dogs – Happy on the outside, and even happy in that moment, but still getting over heartbreak on the inside.
DC's Cherry Blossom Festival – Spending the entire morning from sunrise to around 12 pm walking around the Tidal Basin, taking photos and a video, was one of my favorite DC tourist-y activities of 2015. It was peak bloom, absolutely stunning, and I was exploring on my own so I was able to go at an absurdly slow pace without anyone getting annoyed at me. However, it was also a Sunday, which meant that later that evening I'd feel the Sunday evening dread come over me as I faced returning the next day to a job where I was unhappy with a boss that I really disliked.
Selfie on a bridge over one of Venice's 177 canals – This was my second day in Venice and I was on an awesome walking tour when I took this. The day before was toward the end of my first week of my two month European adventure, and I was feeling a huge wave of solo travel loneliness and homesickness, which made me question whether it was even the right choice to come to Europe in the first place.
Paragliding over the Alps with my friend – This was an amazing experience, probably one of the best of my life, but I did end up throwing up while we were up there from motion sickness. And later that afternoon I had to say goodbye to my friend, who I wouldn't see again for seven months.
Selfie by a Swiss alpine lake – My friend and I had just done a lake dive to help get our energy back. We had a seven hour hike ahead and were just feeling exhausted that day. Jumping into the freezing cold lake helped reenergize us and propel us through that day.
Selfie in Florence with The Duomo in the background – Florence is beautiful and magical. Overall, I had a wonderful time there. I was, however, also starting to feel the pangs of loneliness that would manifest itself in a much bigger way in a couple days in Venice (re: #3).
Christmas family photo – You can see some of our animals are really not happy about being forced to be in this group shot, but that just made this experience funnier. The unfiltered part of this story is that earlier this week we had a family member in the hospital and we weren't sure at first what was wrong or if they'd be home by Christmas.
Tour du Mont Blanc hike – A gorgeous mountain view on our 10-day, 100-mile hike. The TMB was another one of the best experiences of my life, but that doesn't mean the hike was incredibly difficult at times. My longest hike before this trek was a 5-hour, 1-day hike and I went hiking on average once or twice a year. Knowing this, then picture me climbing uphill for eight hours, followed by a three hour downhill. And that was just Day 2.
Cinque Terre hike – The view is so incredible that I feel bad saying this, but the weather was just sweltering that day. Italy in the summer is hot, if you didn't know. The next day I also experienced a really obnoxious train strike.
None of these "life unfiltered" moments are big reveals, I realize that. Like I said, I tend to post happy moments on my Instagram, so there aren't any scandalous, shocking unfiltered backstories to accompany these images. I do hope, though, that these little glimpses into the less pleasant aspects of life that are also associated with these photos helps to remind you to put Instagram and other social media into perspective. Instagram is a place to share happy moments and artistic photos, never a way to gauge how someone's true life is going, so don't compare your real life to someone else's highlight reel!