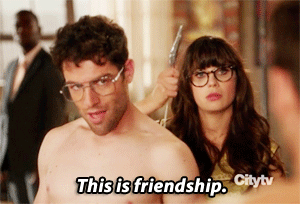 Making friends after college is hard.
One part of it is that you no longer live in the same one mile vicinity as hundreds of other like-minded people in your age group. Everyone's more spread out and there's no collective gathering at the library at night or at the same parties on the weekend.
That's the part of it that's sad but perfectly understandable to me. The other part has been a tougher, more disappointing realization for me.
Moving across the country to a new city last fall meant I had to set up a new life for myself, which essentially put me in the business of making new friends. While I'm happy with the people who I have in my life in the Bay Area, I've also found myself disappointed in budding friendships more than once this year.
Everything seems to be going along great and then…you find out that they're a little homophobic. Which you thought no longer could possibly exist within the seven by seven mile radius of San Francisco anymore, but apparently you were wrong.
Or you start to see that the stereotypical self-entitled millennial so many publications seem to write about might actually be applied best to the person you were hoping you could be fast friends with. They're not a bad person, but if you're brutally honest with yourself, most of your conversations turn into complaints about first world problems.
It's quite possible that I'm too picky, but I was recently talking with a college friend who's also in a new city and we're both in a position where we have more in-the-moment/convenience friends, who we're hanging out with because we live in the same area or work at the same place, rather than lifelong friends.
It's not a problem, more of an observation. Making new, true friends is hard and lifelong friends are a rare breed, to be treasured and protected at all costs.