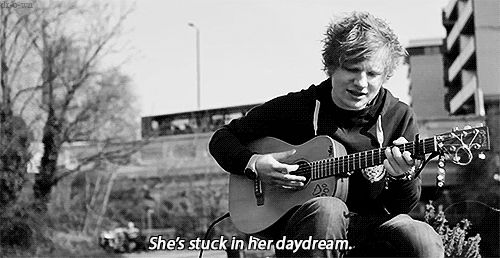 As I've mentioned before, I tend to fall into YouTube black holes. Recently, it's been Ed Sheeran interviews.
I first heard of Ed when he was on Taylor Swift's 2012 Red album in the song, "Everything Has Changed." Since then, I've sung along to his songs on the radio (most notably, Thinking Out Loud, Photograph, and The A Team), but hadn't given him much thought.
Then I learned, at the end of his 12 month no-social-media sabbatical, that he had, in fact, taken this sabbatical and was coming back to social media and about to release new music. Well, that's interesting, I thought.
I listened to his new music on Spotify the day that he dropped his two new songs, "Shape of You" and "Castle on the Hill," and immediately loved them both. And since they're both on my current playlist now and I've been listening to them a ton, this eventually led to me binge watching YouTube interviews with him, which brings me to my main point:
He gave some really excellent advice about the creative process in one of these said videos:
If I was advising anyone to start songwriting, I'd just say: write anything that comes into your head. Anything. Just get stuff out there. I kinda treat songwriting as a dirty tap in an old house. When you run a dirty tap, it's clogged up, bit of dirt in it, bits of mud. You run it, mud's going to come out, a little bit of water, a bit more mud, and then suddenly it's going to start flowing clean water.
You've got to unclog the pipes when you're songwriting. So just start writing bad songs. Write songs for the sake of it. Write a song a day. Just sit down, pick a chord, write a song, get that song out of you, and the more and more you do it, the more and more you unclog the pipes.
I'd say, if you want to start songwriting, just start. Don't worry too much about writing the best songs possible. If anyone wants to listen to growth, go on YouTube, type in "Ed Sheeran Addicted" and you'll hear a song that I did when I was 12. And the singing is dreadful, the songwriting is dreadful, the guitar playing is dreadful, and now I'm here talking to you as a professional musician.