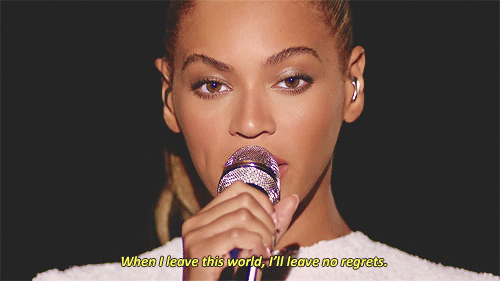 I originally intended to do a Music Monday post the first Monday of every month. Then I came across some awesome Monday motivation that first Monday of April and had to share that. Instead of doing it at the beginning of every month, I'm just going to sprinkle these posts on Mondays when I'm feelin' it.
I actually did a recent music post because I went to a Bonnie Raitt concert this past weekend, so instead of diving into a favorite artist or lyrics, I thought I'd just share some of the music that I'm loving currently. In no particular order:
"Work from Home" by Fifth Harmony — 

Is there a catchier song on the charts right now?! I don't think so. I could listen to this for hours on end and not get tired of it.
"The Freshmen" by The Verve Pipe — This song came out in the nineties and I hadn't heard it in a long time. I don't know what made me think of it, but I had a flashback to it recently, added it to my Spotify playlist, and it's become one of those melancholy, evocative tunes that I feel compelled to listen to on repeat: "For the life of me I can not remember / What made us think that we were wise and we'd never compromise"
"Never Forget You" by Zara Larsson and MNEK — 

This is another one that's just unbelievably catchy and irresistible to me. I love that it's a duet and that the pacing and the level of how electronic it is changes at different points in the song.
"I Was Here" by Beyonce — I haven't had a chance to listen to Lemonade yet. Obviously that's what everyone's talking about currently (my office is very divided on whether or not the album confirms that Jay Z cheated) but I'm currently obsessed with a song of hers from 2011. Check back with me in 2021, I'm sure I'll have an obsession with songs on Lemonade by then. The lyrics in "I Was Here" should be a life guide for everyone alive: leaving behind no regrets, loving and adding happiness to the lives of those around you, making a difference while you're here on earth.
What are some of your favorite songs currently? Always looking to add new songs to my playlist!