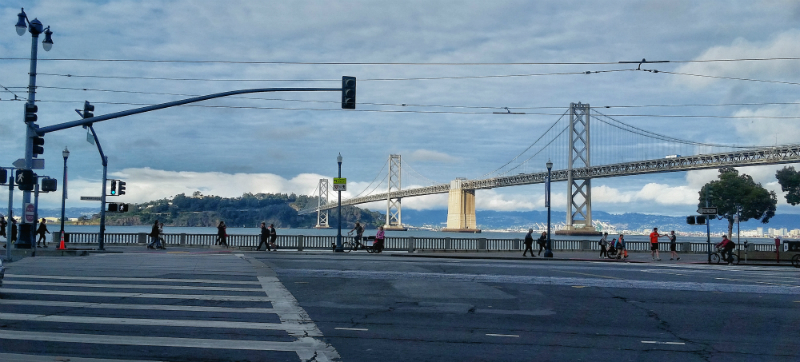 I had to work a bit later than expected tonight, so I missed the weight lifting class that I occasionally go to on Monday nights. I decided 'what the heck, why not jog home.' It turned out to be the perfect night to do it. The first quarter mile was sunny, so I soaked that up and then it turned overcast with a cool, refreshing breeze, aka perfect running weather. Plus, the initial half mile gives me a spectacular view of the Bay Bridge (see above) which helped to give me a little thankful "I love this city!" rush.
I've run home from work a few times before — frequently enough that I downloaded the Nike app to track it, not frequently enough to see a difference in my mile time — and every time I do, I'm happy that I've done it. There are some things you have to be careful about with running through the city, like cars turning right on red unexpectedly or accidentally taking a deep breath in through your nose and getting a big whiff of pee or garbage. But 95% of the run is good and, at a little over three miles, it takes me roughly the same time as my regular commute would.
This post doesn't really have a point except to say running feels good when you actually get out and do it and I'm so grateful to live in a beautiful place with such lovely weather.
Hope you had a happy Monday!