I first started loving Winston Bishop of the show New Girl when I found out he feels the same way about his cat Ferguson as I do about my Howard: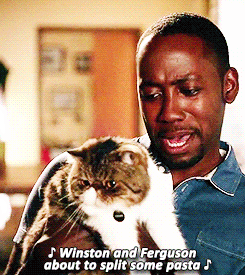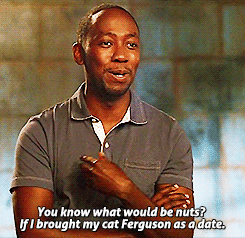 We just have a lot of the same values:

He's hilarious, but I also think he's the wisest character on New Girl (whilst keeping it comical). I watched the episode "Goosebumps Walkaway" tonight and loved this exchange between Winston and Schmidt: 
Schmidt: You can't go to the station like that! They'll make fun of you.
Winston: When are you going to stop worrying about what people say? When I look into my suggestion box, it is full. [chuckles] People have a lot to say about the way I live my life, but there is only one comment card that I pay attention to. And you know what the card says? It says "Great job!" And "keep it up!" And you know who filled out that card? Me. You know how I know? Because I recognize my mother frickin' handwritin'. [drops sweatshirt like he's dropping the mic and walks away]."
It's a quirky analogy, but that's just who Winnie the Bish is! Keep in it mind, ya'll: ignore all the noise in your comment box from other people's judgment or your own negative thoughts. Just write one positive comment card that you refer back to on the regular, and we can all be happy like this: