It's Sunday. If you're like me and you love YouTube, then you know that this is the day when a million and one people seem to upload. But today I invite you to take a short break from YouTube binge watching as I share with you one of my favorite Tumblrs: Pop Sonnets. That's right, it's a Tumblr page that turns modern pop songs into sonnets. They call it "old twists on new tunes."
Whoever started this is a genius. I once had to write a sonnet for a college English class and it was truly a miserable experience for me – poetry has always been something I admired from afar, not something I'm eager to dive into myself. I can remember only one time in my life when I suddenly had the urge to express myself through poetry and even that never truly came to fruition.
In school, writing poetry was an exercise to be grudgingly completed, starting with my poem about apples in the first grade. "Apples, apples, apples / Yes, indeedy / They are seedy." I'm sure you can imagine the glorious places that poem went on to travel to.
All this to say, I really admire people who can write poetry well. This Tumblr poet not only writes sonnets well, she or he cranks out a new one every Thursday.
Gems like The Black Eyed Peas' "My Humps":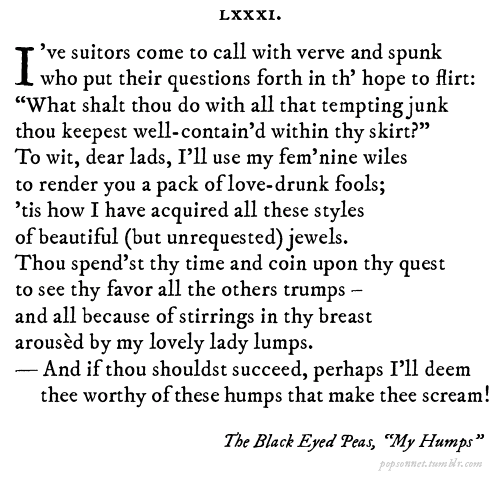 Drake's "Hotline Bling"!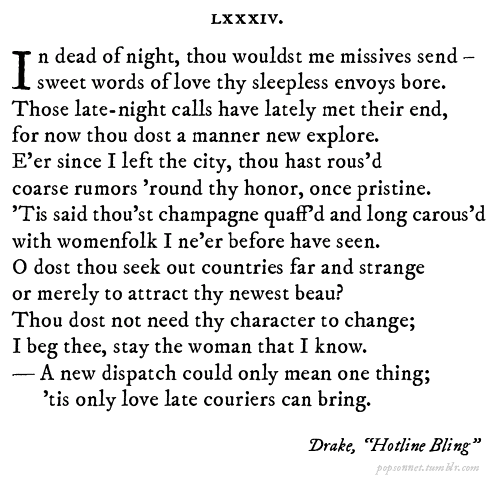 And, of course, in honor of the late David Bowie, I have to share this one: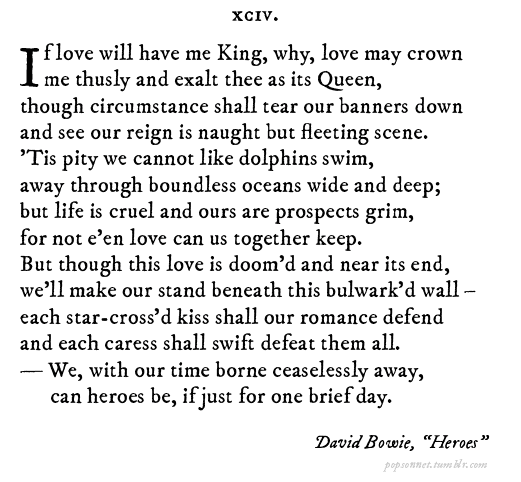 If you get as much of a kick out of this as I do, you have to go check it out!