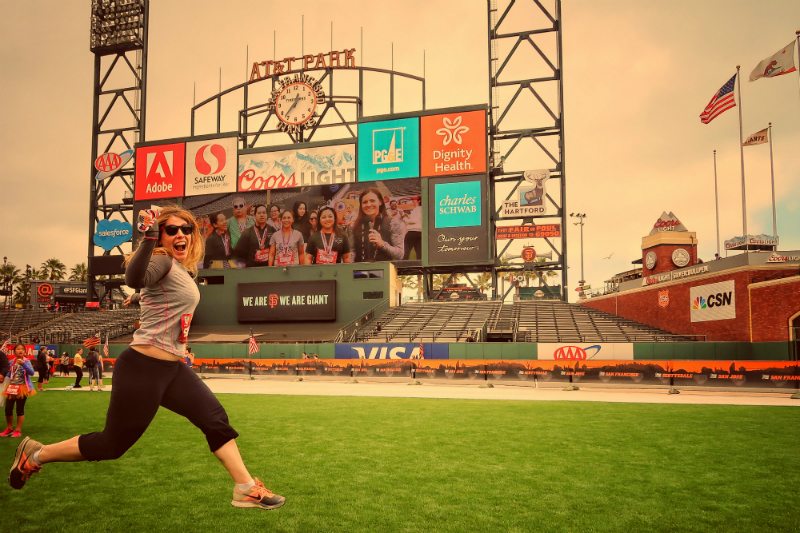 This is one of those things I have to write down to make it real. Like when I filmed a video announcing that I was starting a blog and was going to write posts every day so that I had a public record to hold myself accountable.
My friend first told me about the Monterey Half Marathon back in the winter — roughly 9 months ago. She signed up right when it opened and got the early bird discount. It's been in the back of my mind ever since, but even though I did cross country back in high school, running has never been my thing. A half marathon is intimidatingly long and has the potential to be zero fun in my book.
Then, I did the Giants 5K on Sunday with my family and saw the half-marathoners who were just finished with their morning run and it nudged me closer to being ready to make the commitment. (And at $120, it really is a commitment.)
The first part of my year had so many exciting events and activities (traveling to Germany for a family reunion, learning to ski in Lake Tahoe, going to my friend's bachelorette weekend outside DC and then seeing that friend get married in Kansas City later in the year, attending my college reunion, etc). I want to plan some big moments for the second half of the year so that it stands a chance of being as dope as the first half. What better way to end the year strong than push my body to do something it's never done before?!
I just googled "How long does it take to train for a half marathon?"
A Runners World response popped up at the top and said: "Plan to take about 15 weeks to prepare for the big day."
I have 9 weeks. But I'm going to do it anyway! Fingers crossed that I stay healthy and committed to my training and that in about two months, I'm puttering along like nobody's business next to the Pacific Ocean for 13.1 miles.