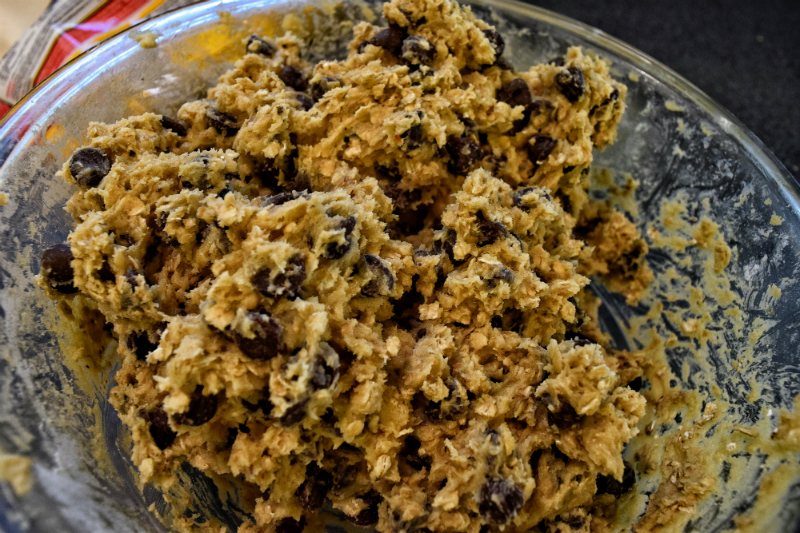 I love chocolate, I love cookies, oatmeal's okay, but put all three together and you've got a real winner. My friend introduced me to these bad boys and, like I said in the title, they're just the best, so they then became our go-to whenever we were hanging out at her place and wanted something sweet. That means they're not only delicious, but they also come with a side of wonderful memories, which you can experience, too, once you start sharing them with friends and family.
"Best Oatmeal Chocolate Chip Cookie" Ingredients:
3 cups flour
1 tsp salt
1 tsp baking powder
1 tsp baking soda
2 sticks margarine
1 cup white sugar
1 cup brown sugar
2 large eggs
2 tsp vanilla
1.5 cups old fashioned oatmeal
2 cups chocolate chips (go with more or less, depending on your chocolate love level)
Makes about 30-40 cookies, depending on how big you like yours.
This is how we do it:
– Preheat oven to 375°.
– Mix together margarine and the two sugars until creamy.
– Add eggs and stir a little to blend the eggs a bit. Then add the vanilla and beat until fluffy.
– Mix dry ingredients, EXCEPT the oatmeal, together in a bowl.
– Add the dry bowl of ingredients into the wet bowl. Mix it together, but don't over stir.
– Add in the oatmeal and chocolate chips.
– Make balls of dough and put on the pan.
– Cook for about 14 minutes. Perfect timing depends on your oven, so keep an eye on them!