I love surprising twists in people's life stories. A change of direction, charting an entirely new path, or just taking a number of stops along the career path before reaching the pinnacle. 
For example, it's fascinating to me to find out Kerry Washington was a likable side actor in Save the Last Dance before transforming transform into one of Hollywood's glamorous leading ladies more than a decade later.
I came across a delightful example of this tonight and had to share, even though it might be old news to a lot of people.
A little back story: you know how I'm really excited for the Gilmore Girls reprisal?
Well, I was diving into a YouTube black hole this evening (those suggested videos get me almost every time) and came across this interview with some of the Gilmore Girls cast. It's way too long, so I couldn't justify watching all of it but I did listen to the very beginning where they talk about Danny Strong, who played Paris' boyfriend, Doyle.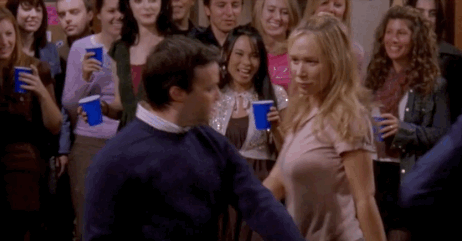 Here's a rough transcript of that part of their conversation:
Luke: I ran into Danny Strong downstairs. And, you know, he was always this great actor and he showed up and everybody would have a great time with Danny Strong and he was an actor.
Amy Sherman-Palladino (show creator & writer): Oh yeah.
Luke: I ran into him downstairs and I said, 'Danny Strong! How are ya? I haven't seen ya in awhile. I go, you gonna be at the panel?' And he said, 'Uh, well, I'm doing the Empire thing.' And I asked if he was acting on that show and he goes, "No, I created it."
[Laughter]
Amy: He was writing his first thing on the Gilmore Girls set. He was talking to Dan and I about being a writer and we're like, "Sure, sweetie, be a writer, go be a writer. And I'm like…don't be that successful! He's just, like, run with it. But it's–it's–it's great.
I looked into it and he started script writing at age 25. Nothing came of that attempt but he kept writing. The year after Gilmore Girls ended, he wrote a successful Emmy-nominated HBO film. He went on to write other successful films. Then, in 2014, he co-created the wildly successful show Empire and began co-writing the two-part finale of The Hunger Games series. Now he's directing his first movie.
Damn!
After a reasonably successful acting career by all measures (supporting roles in Buffy the Vampire Slayer and Gilmore Girls, guest parts on everything from Seinfeld to Grey's Anatomy to Girls HBO), he managed to switch lanes into writing and morph into this Hollywood writing mogul while the rest of the side characters on Gilmore Girls were….not doing that.
I don't want to be too harsh toward the other Gilmore Girls characters since I love them all, but I feel like this comparison is important. Doesn't that make you want to work harder and be a Danny Strong rather than a side character who's still only known for Gilmore Girls eight years after the show ended?!