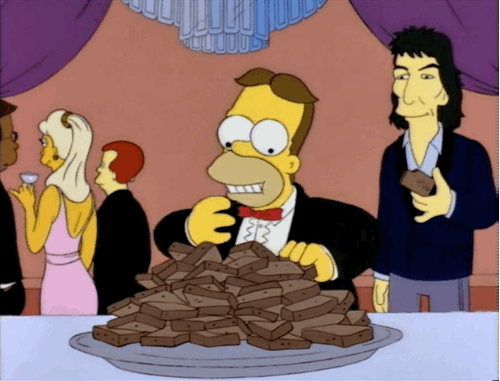 My co-worker shared the funniest story of the week (of all-time?) with me today. You'll understand the gif above after you've read it.
It comes from the Omaha World Herald and is by the now legendary staff writer, Kevin Cole: "Omaha dad finds pot brownies, eats 4 of them, says mean things to cat." Please go read it now (it's short and sassy) and then come back and we can discuss our favorite parts.
Here are my top 3 funniest moments from the story:
Omaha police officers were called to a house near 90th and Maple Streets about 9:45 p.m. Tuesday to investigate an accidental overdose….The man's wife told police that as she and her husband were watching TV, he noted that he was getting "bad anxiety." 

The man told paramedics he felt like "he's trippin'."

Paramedics called to the scene who checked the man found his vital signs to be normal. But they noted he was displaying odd behavior — crawling around on the floor, randomly using profanities and calling the family cat a "bitch." (emphasis my own)
Did you love this article as much as I did? It reminded me of my school's security blotter in our school newspaper that would have hard hitting news like: "Fire alerted in a dorm. Turned out to be burnt toast." or "Small fire caused by a dirty oven. Extinguished with a fire extinguisher." or "Two young kids caught jumping their skateboards off a loading dock for a second time and asked to stay off college property."
Not as laugh out loud funny as the Omaha World Herald, but humorous nonetheless. I want more news stories like this in my daily life — it's the perfect antidote to the nonstop negative election coverage these days!