One of the first bloggers I ever read was Tova Darling. She doesn't write at that spot anymore and I unfortunately never found out her new non-anonymous blog name, but I remember her fondly nonetheless. One of her things was Totally Awkward Tuesdays, where she would tell an awkward story (e.g. dating a guy she met on the website Hot or Not) every Tuesday.
Thankfully, I don't have quite enough stories to do this every week, but I was thinking I could do it once a month. I love/hate hearing other people's awkward stories because they simultaneously make me cringe and feel less alone, so hopefully you also appreciate them despite the cringiness.
This awkward moment is holiday inspired because I refuse to accept that the holiday season has once again somehow passed us by.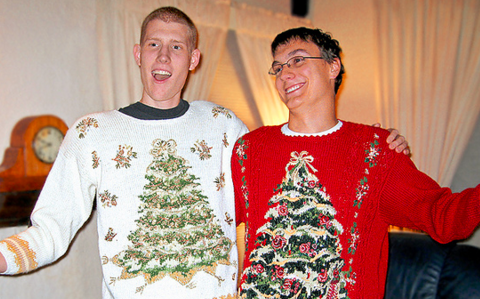 Source: Flickr (TheUglySweaterShop.com)
Back in high school, I was invited to my first Ugly Sweater party. My whole team and our parents would gather at our teammate Meg's house for food and drink and general holiday merriness. It was never going to be an incredibly fun party for me because I wasn't close friends with anyone on the team and was very shy around them, but it still should have been a pretty straightforward holiday festivity.
Except that I forgot the theme. So when I went to get dressed for the party, my only thought was: "Oh great! I'll wear my fuzzy red sweater to seem festive!"
I showed up to Meg's house in a sweater that I would wear normally throughout winter, looked around, and quickly remembered the theme. Everyone else had gone all out with their ugly sweaters. My mistake dawned on me as I walked over to where a couple of my teammates stood around chatting.
"That sweater is perfect!" Miriam greeted me.
Caught off guard, I replied, "Oh. Actually I forgot it was going to be an ugly sweater party…"
Long awkward pause followed by stilted laughter. If that happened today, I would just accept the compliment, avoid the awkward moment, and laugh at it later instead of making the moment uncomfortable for everyone and letting it hurt my feelings a little. Oh well, ya live and ya learn!
Any awkward holiday moments for you this year?