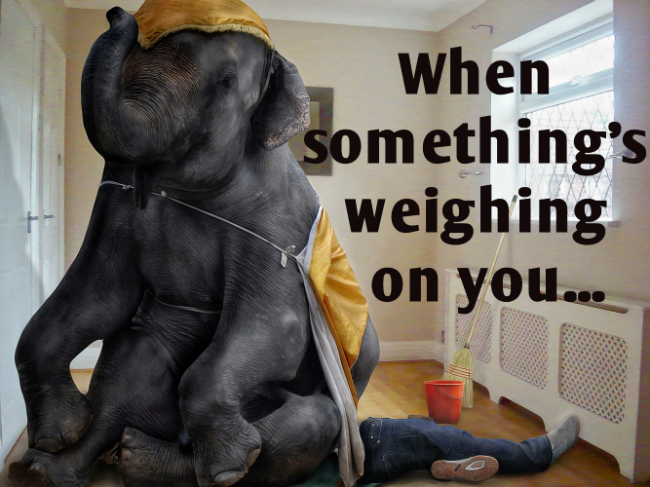 Source: Flickr
Do you ever have something happen and it just weighs on you? I have friends who, when something bad happens, they don't dwell on it. They're able to ignore, compartmentalize, or acknowledge and then set it permanently aside. That's just never been me.
I've struggled with why I can't move on more quickly from unpleasant moments. When a co-worker is rude, it stays with me longer than it should. Sometimes it's bigger things. If a tragic event happens in the news and it hits close to home based on my past experiences, I grieve as if I'm much closer to the situation than I actually am. Whether it be the Sewol ferry sinking in South Korea or the recent terrorist attacks in Paris, the stories that come out of these tragedies stick with me in a way that I can only describe as weighing on me. I ingest this news and it affects my everyday mood more than you would expect for someone who knows no one who died and lives half a world away from where it occured. It just becomes this weight on my chest of sadness for what was lost and unhappiness with the way the world is.
I'm not sure why I can't just set unhappy thoughts or memories aside. It's been written by those close to him that Bill Clinton is a master compartmentalizer. I think that's a useful skill and I strive to be able to do it, but I'm so far from mastery.

What's making me think about this and write this post is a very personal conversation about a touchy subject that I had with a new friend this week. I don't want to go into the details, but in the most basic sense, I thought we had very similar values and I learned that in fact we view a couple of key things about the world very differently.
The conversation was very respectful, nothing hurtful was said (i.e. "That's crazy, how could you, this educated person I really admire, believe that?!"). Then we moved on to other subjects and nothing had really changed between us.
Except I felt this deep disappointment and discomfort inside me that just wouldn't leave. It was there when I woke up this morning and still comes when I think back on our conversation.
My thoughts on this aren't cemented yet, but I'm coming to believe that only time will take away a sucky feeling like this. I can find ways to distract myself – work, exercise, TV, hanging out with friends all certainly take my mind off unpleasant thoughts or feelings. Even taking the time to write this helps me to put it in proper perspective. But I need time to pass for me to completely accept and move on.
When something hurts the soul, whether it be a seemingly small disagreement with a new friend, a falling out with a family member, or a world tragedy, it takes awhile to get over. The time needed, of course, depends on the scale of the incident.
What do you think? Do you experience this feeling of something weighing on you after the fact? Is there something you've found that helps you get over it more quickly? Share yo' insight (please)!